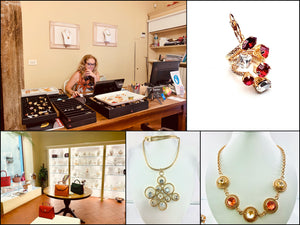 How I met Monnaluna
Monnaluna - the Moon Lady
(Monna - a courteous name used in Florence in the 1500s for women, Luna means the Moon) 
It had been a really hot summer and was about 43°C/109.4°F in the evening when, after a long journey from Marche, passing through Perugia, I finally arrived in Florence.
I had agreed to meet Giovanna, the Monnaluna Fashion Accessories Brand owner, a dynamic, elegant, and beautiful woman.
I walked through the center of this beautiful city of art, crossing the famous Ponte Vecchio bridge on my way to Pitti Palace. In July, Florence was utterly full of life, and there were tourists everywhere. I arrived in Pitti Square, where, besides the famous museum in Pitti Palace, you can find the most important European institute for art, fashion, and design.
This was the perfect place to find this unique brand. In the end, I found myself on a very picturesque narrow street where I came across an Italian artistic boutique with magnificent jewelry, bags, and shoes on display in the shop window. This was the Monaluna boutique.
Giovanna welcomed me like an old friend. Even though she was very busy, she was very curious to learn about our project and my journey across Italy hunting for unique handmade masterpieces created by Italian artisans.
Giovanna expressed a lot of enthusiasm for her artwork. She is a goldsmith making unique pieces of jewelry. She then set out on a new challenge as a bag designer and creator of unusual shoes with Swarovski crystals attached to them. I was genuinely impressed by her masterpieces.
While sitting in Giovanna's boutique, my first female impulse was the desire to try on and buy absolutely everything.
Starting with beautiful highest quality handmade bijou with Swarovski crystals created personally by Giovanna, and finishing with the bags and shoes. When I touched the products, I could feel the quality and the uniqueness of their design.
Giovanna also showed me her goldsmith laboratory located under the boutique. She and her husband create jewelry with their own hands.
She also told me about all of the challenges that a small artisan faces when going up against the big players. But, at the same time, I could feel a lot of positive energy from her and sense the great joy that this work brings to her.
I could feel all of that love and passion translated into her masterpieces.
I left Florence with a big smile on my face, grateful to have had an opportunity to meet someone like Giovanna, 
a real artist
 and a real businessperson, unique, positive, and very special.
I felt like I was coming back out of the magical world of art, history, and passion.  I knew we would become friends.
Agni
---