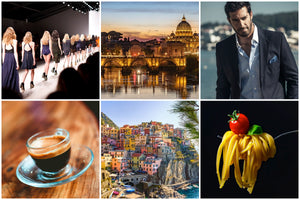 Who doesn't love Italy?
Who doesn't like how Italians look when they show up dressed for an evening out? that small touch of class they add makes such a difference. 
Throughout my years of living in Italy, I needed to learn that. Small differences, attention to detail, and a delicate touch change everything. Whether it's in an outfit's design or the creation of a business strategy, Italians are the most creative, out-of-the-box thinkers.
Black elegance for the evening? George Clooney wears a black Armani suit whilst doing ads for espresso - a stylish actor in his villa in Bellagio surrounded by the picturesque Como Lake.
This is the charm of Made in Italy and is something I really love. It's not only about an outfit or shoes, but rather the whole story behind that small cup of coffee.
Everywhere I have traveled, people would always smile when I said that I live in Italy. It really is a beautiful country with people that are so creative and so unique which is rarely found elsewhere.
It is incredibly difficult to find one reason why people love Italy, but there is definitely this magic about the beautiful, romantic cities, the fantastic valleys with both discovered and undiscovered regions, the delicious food and local people who know how to make a difference to their outfits by wearing - or adjusting - a small detail.
That is Italy: So stylish and the most beautiful country in the world!
Agni
---
77 comments